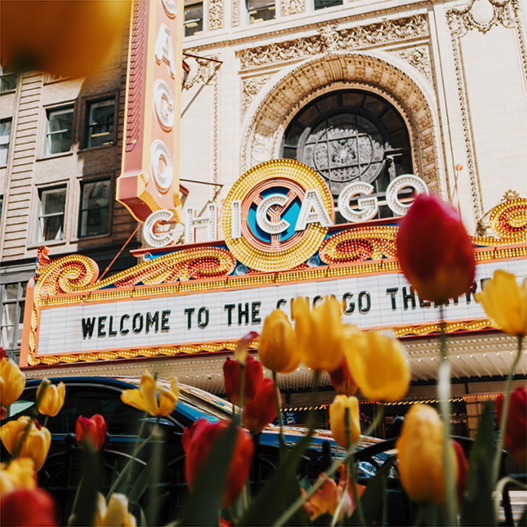 Live Local
In Chicago.

Chicago has a big appetite for everything—food, architecture, culture, sports, shopping and nightlife. It's been said that it has everything New York has to offer, just cleaner. With 77 distinct neighborhoods, there's a vibe for just about anyone.
Chicago
Neighborhoods.

Andersonville
Chicago
Friendly. Laid-back. Gastro pubs. Quaint cafes and shops. Unique furniture stores.
Logan Square
Chicago
Hipsters. Wide boulevards. Vibrant foodie scene. The 606. Historic mansions.
Uptown
Chicago
Diverse residents. Gritty urban renewal. A thriving ethnic food scene. Iconic theaters and music venues.
Lincoln Park
Chicago
Landmark neighborhood. Beautiful brownstones. DePaul University. Established shops and eateries. The zoo.
Rogers Park
Chicago
One of Chicago's most integrated neighborhoods. Ethnic eateries. Beach-ended streets.
Bucktown/
Wicker Park
Chicago
Hipster haven for artists. Teeming with cafes, bars, thrift stores, local shops and restaurants.
Lakeview
Chicago
Great starter neighborhood. Cubs fans. Boystown. Packed with bars and restaurants.
South Loop
Chicago
Culturally diverse. Redevelopment. Grant Park views. Walk to work. World-class museums.
Roscoe Village
Chicago
Quaint village vibe. Kitschy dive bars and thrift shops. Cozy restaurants.
Hyde Park
Chicago
Melting pot. Cultural hub. University of Chicago. World-class museums. Gorgeous green spaces.
Ukrainian Village
Chicago
Old World charm meets hipster cool. Buzzing bars and restaurants. Historic churches.
Edgewater
Chicago
Diverse residents. Historic. Sprawling parks. Expansive beaches. Antique shopping.
Popular
Chicago Searches.

Queue up your search based on some of our most sought-after features and amenities.
Must haves:
On-site laundry
These buildings have convenient on-site laundry options you'll love.
Must haves:
Dishwasher
Search properties with a dishwasher included in your kitchen space.
Must haves:
Thriving nightlife
Step out and enjoy the nightlife at these communities.
Must haves:
Music venues
Rock on and live close to hip music venues.